/str-ah-id/
Inspired by the word stride.
It means moving forward with decisive steps, always forward.

Strahyd is born in Mexico for all world travelers.

We are allies of the movement . Traveling connects us with the world, but also with ourselves and with others. We want to inspire you to continue traveling the world, not to stop for anything.

Observe to find beauty in unexpected places. Walking like a nomad who does not lose the ability to be amazed at the world around him. Collect journeys that feed the traveling spirit.

We create products that stand the test of time, that they complement the unique style of our travelers by offering timeless design, functionality and premium quality.

We are Strahyd and we want to be your travel partner . Whatever the next step, we want to accompany you to your next destination.

Travel accessories created with the Soul.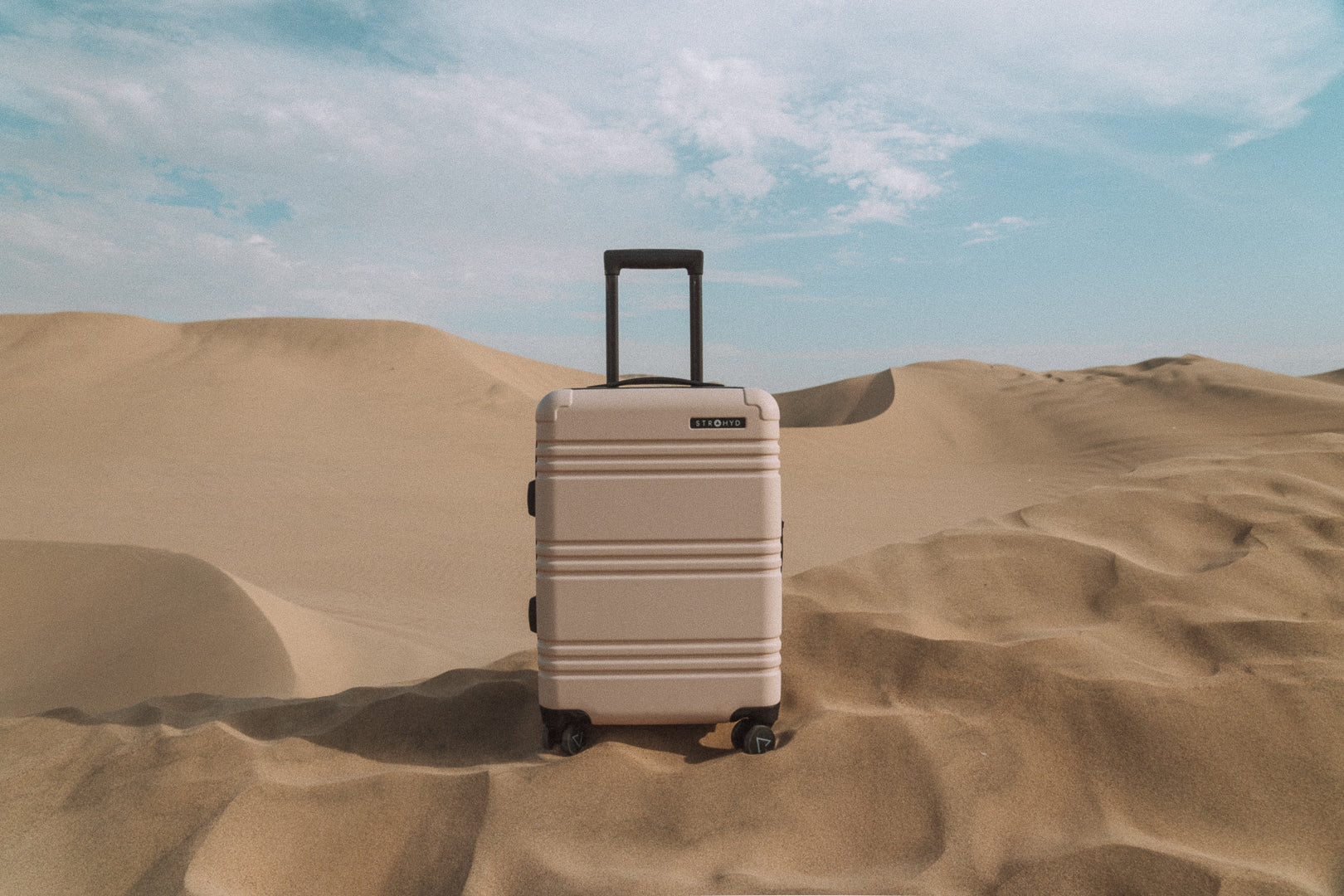 For a long life together.

We take care of every detail to create durable products that stand out for their premium materials and first-class finishes, so you will always want to take us with you on all your journeys.

This is why we subject our suitcases to different quality tests, to verify their resistance to various factors to which they may be exposed.

We load the suitcases with:
15kg - Carry—On
25kg - Check—In

We share them for you to see for yourself:
Visit our store
Loop Resistance Test

When we carry a suitcase, the handles are the ones that support the total weight, which is why we subject them to the stress of strong pulls and jerks and thus verify their flexibility and strength.
Trolley Pull Test

To test the resistance of the retractable aluminum trolley, the suitcase was placed with the cane extended to its maximum height in a machine that simulates jerks equivalent to a great application of force.
Rotating Drop Test

Test that simulates the treatment that is given to suitcases in the airport bands, through which we evaluate the resistance to impacts due to falls, blows and mistreatment.
mileage test

To evaluate the quality, performance, and wear and tear of the wheels, the bags were placed on a treadmill with stops that cause different types of impact on the wheels during turning.
Stylish & Strong,
From Inside Out
Strong
High strength polycarbonate rigid shell.
light
Light materials, thus, only what weighs is what you carry inside.
Sublime
Minimalist and timeless design in matte texture.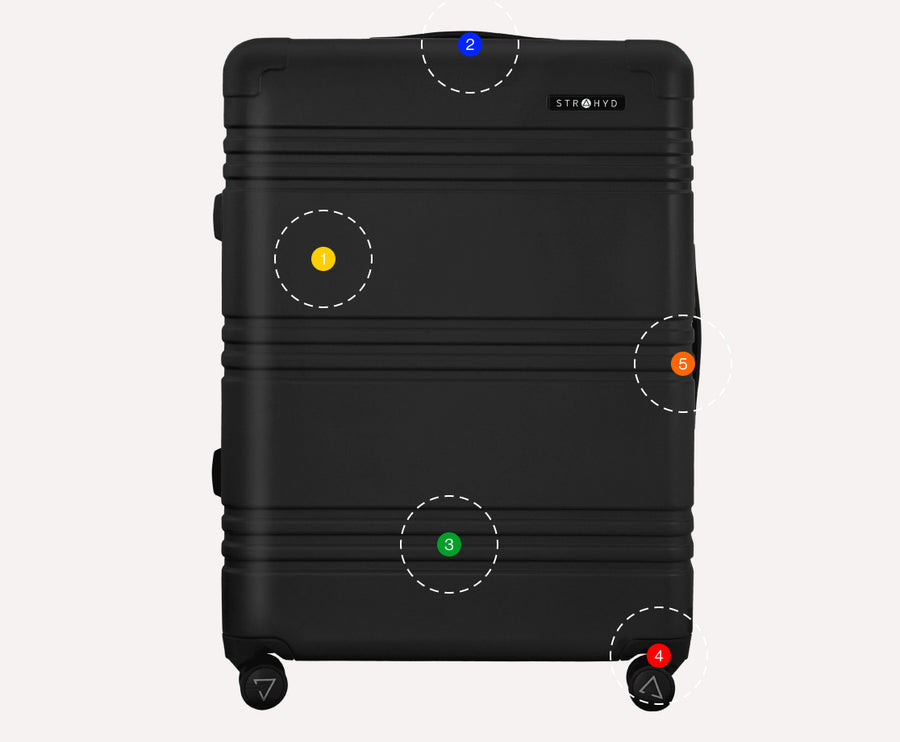 silent
Wheels that glide silently when turning.
Safe
TSA approved number combination lock.
Only
High resistance and durability polyester lining
Functional
Ad-hoc dividers. Each suitcase size has dividers functional.
Comprehensive
Complements included to give an extra detail to your trip: luggage tag and waterproof laundry bag.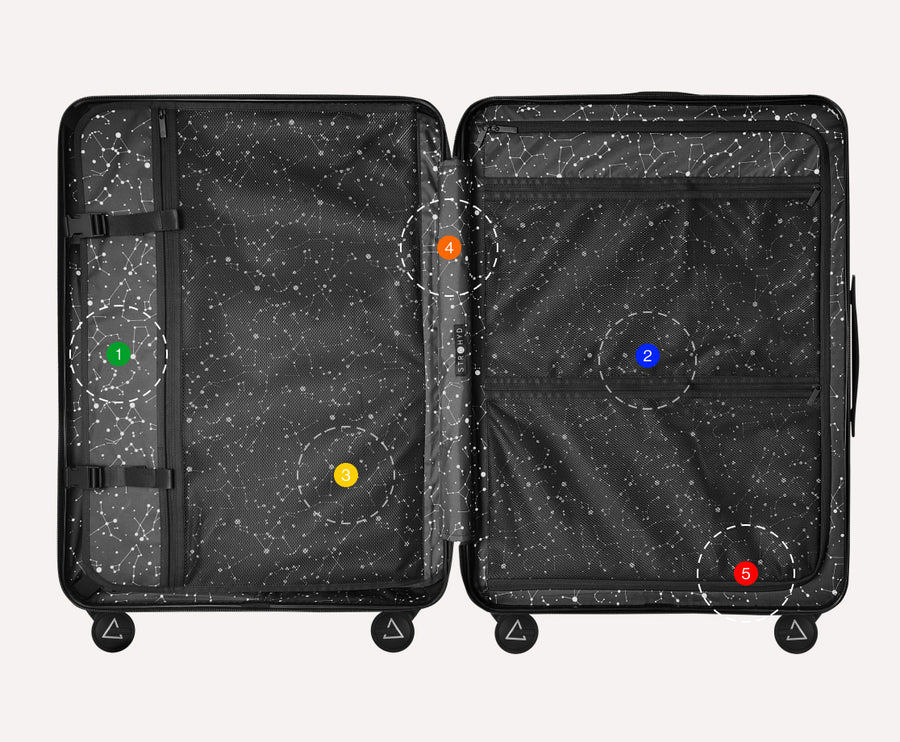 Special
Original design inspired by the dynamics of the constellations.
Flawless
Fine finishes such as the inverted zipper for greater security and aesthetics
Don't stop for anything.
Show who you are.
Fall in love with them, hypnotize them.

Because you have not arrived to follow anyone, instead,
your step leaves the path that many others will want to travel.
And I'm not going to tell you to make the world yours, because you already have it and you know it.

What you want is something more
and that's why you love to travel,
explore,
know.
In order to discover new routes.
New ideas.
New worlds.

Keep going,
because they expect new stories to tell.
Keep going,
because if not today
when it will be?

STRAHYD –– Lead The Way